about
Our Mission
Our mission is to give our customers access to opportunities to improve their lives through the creation of affordable, relevant, and high-quality educational content. We are honest, and strive to create the highest value learning experience. We partner with fellow companies to deliver this content to their customers in innovative ways that make a difference in their customers' lives and contribute to their own growth and profitability.
Our Growth
Launched in 2002 as a partner of Barcelona-based Grupo Adi, Columbia Content and its parent company TriAltea USA, have been a revenue-generating operation from day one. We received no private funding or bank loans to start the business. The first product introduced was Inglés en 100 Días®, an affordable, high-quality English as a Second Language solution for Spanish-speakers in the U.S.

This product was born of the market need for an English language solution that was high-quality and culturally-relevant, yet affordable for those that needed it most. Soon after, Santillana USA the largest Spanish-language publisher in the world, became an exclusive distribution partner, and from this collaboration 20+ more English for Spanish-speakers solutions were developed under the Inglés en 100 Días umbrella brand.

Today over 2,000,000+ units of Inglés en 100 Días® products have been sold through retailers that include: Amazon, Barnes & Noble, Costco, Target and Walmart. The Inglés en 100 Días® series holds the leading position in its category (Nielsen). We partner with leading publishers worldwide (Grupo Planeta, Hachette, La Nación, O Globo, Santillana) to distribute our products throughout North and South America, and Europe.

All of our products are accessible in all formats and across all platforms. At the request of our partners and customers we have expanded our product line to include educational solutions in: Computers, English for Kids, Spanish (for English and Portuguese Speakers), English for Portuguese Speakers, Portuguese for Spanish Speakers, Online Children's Stories in Spanish, English for Healthcare Professionals, English for Teachers, English for Tourism Industry Professionals, Art, Music and more.

We have also developed Quick Languages: a program that teaches the most commonly-used words and expressions in a dozen languages, from a dozen languages, and accessible via app or online.

We partner with companies to customize and deliver this content in innovative ways that create value for them and their customers. By providing branded, high-perceived value content, companies can extend their reach and deepen their relationship with existing and potential customers. Our content can serve as the vehicle to achieve: a bond with your clients, data-capture, and revenue-generation.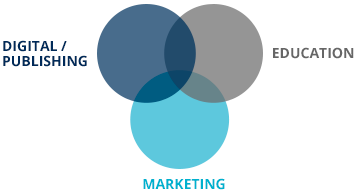 Our Team
Columbia Content calls on a global team that operates across five time zones. Our team includes publishers, academics, book editors, programmers, graphic designers, video editors, artists, and content developers. We pride ourselves on the creation of best-in-class content that is delivered fast, and on-budget.

Our Global Team