Products
Mobile / SMS
We have innovative solutions that can be accessed via cellular phones and smartphones.
InglésTel is a first of its kind: an interactive English School accessible by phone! Created for recent Spanish-speaking immigrants to the United States, the user creates an account with InglésTel linked to their telephone number, and via a unique pin code gains access to the service for the period of time purchased.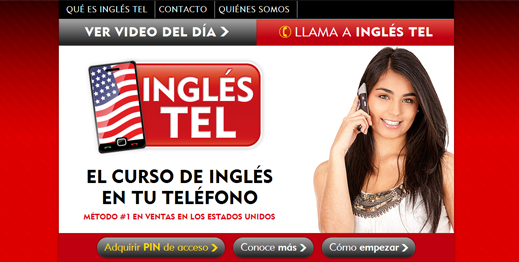 From the main menu,
InglésTel
offers the following options:
Test your English: divided into three levels, with 100 multiple choice exercises per level that occur randomly.
InglésTel Videoclasses: 100 video classes that are organized according to level and accessible via smartphone on the InglésTel website upon entering the unique pin code.
English in Minutes: divided into three levels, and then into eight sub-levels with 6 mini-classes in each. There are a total of 144 mini-classes of two minutes each.
English for your Profession: two audio files per profession of three minutes each, for 16 common professions within the Latin American immigrant population: waiter, nanny, mechanic, gardener, carwash, handyman, etc.
English for Everyday Life: two audio files of three minutes each for 24 common everyday situations: in the supermarket, at the bank, at school, at the doctor's office, looking for work, in an emergency, etc.
Welcome to the United States of America!: eight capsules of three minutes each about 8 major issues for someone who has moved to this great country. Themes covered include: residency and citizenship, documents, housing, healthcare, education, personal finances, employment, everyday life in the United States.
Practice your Pronunciation! 1,000 words and expressions presented at random, in the "listen, repeat and compare" model.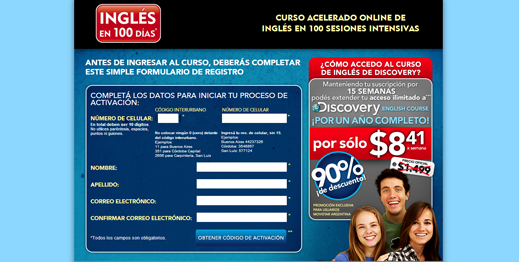 InglésSMS
is a
SATpush campaign
that can be sent to both contract and prepaid users and produces a new revenue stream for the cellular provider. With prepaid users it has the added benefit of increasing retention rates. Users receive an sms with the discounted offer, and if they subscribe over a certain number of weeks, they can gain access to the content for one year.